Yes, you read it correctly. After 19 years, I will be

closing Quilter's Garden

. The fun I have had and the friendships I have made are
priceless! My dad always said we were to count our blessings and I have sooooo many blessings to count. It has been a great ride, but don't worry, my ride will continue! I have accepted a job as

manager of Quilting in the

Valley in LaSalle

. I will still be able to see all of your smiling faces and continue my passion of quilting.
So, here are the specifics of what is to come.
First, Garden Club will meet as usual - July 9 and July 10 - at the
regular scheduled times. Club will not meet in August, so I will be presenting 2 months of information in July as your club fee runs through August.

Second, I will continue longarm quilting at my home in McNabb. Kay has offered to be a drop off and pick up here in Princeton and Lisa is allowing quilts to be dropped off and picked up at Quilting in the Valley. Of course I can always make arrangements if need be!
Quilter's Garden will be

closed

Thursday, June 27- Monday, July

1 to prepare for my closing sale. Starting

Tuesday,

July 2

,

EVERYTHING will be 20% off

. (

Yes

,

kits

and notions

will be

20%

off too!) All

PATTERNS

will be

50%

off. ALL SALES WILL BE FINAL!!!!! Cash, credit card and local checks will be accepted.

We have LOTS (and I mean LOTS) of samples that will be cash or check (local only) and carry. Samples will be an extra 20% off the marked price.

Hours for next week:
Tuesday, July 2- 10 AM -8 PM
Wednesday, July 3 - 10 AM - 5 PM
Thursday, July 4 - Closed
Friday, July 5 - 10 AM - 8 PM
Saturday,July 6 -10 AM - 5 PM


Handi Quilter machines are priced to sell! They won't last long!!!
HQ SWEET - sit down quilting machine - reg. 5995 -NOW - $4495
HQ SIMPLY - quilting machine w/snap frame - reg 5995- NOW-$4495
710 Stitch machine - reg. 3495 - NOW - $1995
710 Stitch machine - DEMO - reg. 3495 - NOW - $1495
510 straight stitch machine - reg. $1495 - NOW - $995

Ta Ta!
Carol
Quilter's Garden
Princeton, IL
815-879-3739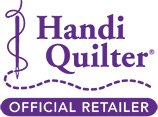 LIKE us on Facebook!
Sign Up for our Email Newsletter