SALE!!!
The fat quarters are piling up so it is time to have a SALE! All next week - Tuesday - Saturday - purchase 5 or more fat quarters and they will be $2.00 each. What a deal!

Shipshewana Quilt Festival is next week - June 19-22 - at the
Michiana Event Center in the heart of Shipshewana. There will be a special exhibit by Judy and Judel Niemeyer along with many activities taking place during the show. For more information, check it out HERE!

We are on the downward stretch for our FREE Bible Studies blocks. Remember, if you would happen to miss one of the weeks of patterns, I can order you a CD of all of the patterns. Just call 815-879-3739 and get your name on the list. Cost is just $9.99 if ordered before the series is finished. F.Y.I. - THERE WILL BE NO PATTERNS SENT OUT NEXT WEEK. I will send out 8 patterns the last week of June.
Ta Ta!
Carol
Quilter's Garden
Princeton, IL
815-879-3739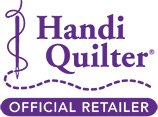 LIKE us on Facebook!
Sign Up for our Email Newsletter