Join Us!

The month is flying fast and it is time for Garden Club! Join us next Tuesday, June 11 at 10 AM or 6 PM OR Wednesday, June 12 at 10 AM. We have LOTS of Show n' Tell for you. Remember, there is no need to call ahead. Just show up with Show n'Tell!


Thank you to everyone who took the Free-Motion Mastery in a Month
Class. Wow! I had such awesome students! I hope you all have stations set up all over your house and are practicing---how many times a day and for how long?????? LOL! If you are curious about this awesome program, stop in and I will give you a demo. It is the best program I have seen in 19 years to learn the basics of Free Motion Quilting. AND yes, you can do it in 30 days. I did! Mallory is pictured with a T-shirt quilt she made. In each block, she quilted free motion designs and did an amazing job!


The FREE Bible Studies patterns are #54-#57. Click HERE and look for the Bible Studies tab. If you have missed a pattern, I will be offering a CD for $9.99 at the end of the series. You must pre-order this CD as the regular price is $19.99 after the series is finished.
Ta Ta!
Carol
Quilter's Garden
Princeton, IL
815-879-3739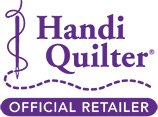 LIKE us on Facebook!
Sign Up for our Email Newsletter