Northern Illinois Shop Hop
The Northern Illinois Shop Hop begins this Saturday, June 1 and runs through August 31. Don't miss out on this great opportunity to win some AWESOME prizes and travel to AMAZING quilt stores. For all the particulars and list of all of the prizes, click HERE! Come to Quilter's Garden to get your FREE passport.


We have lots of new samples in the store now that I
am home from all of the shows and market. Be sure and stop in to take a look around. This is one of our newest collections - Grateful, Thankful, Blessed. The coloring of this collection is so soft and peaceful. Of course we have a decorative pillow too!

Just a few short days until our Free Motion Mastery Class. I have
added an OTT light, extension cords and sewing chair (or pillows to aid you in sitting taller) to the supply list. For the entire list, click HERE!

Here are the last minute reminders:

1. Make sure you
have a free motion quilting foot and know how to operate your machine.

THIS IS VERY IMPORTANT!

You will want to know how to drop or cover your feed dogs and know how to adjust your tension. Also, if you have a speed control on your machine, know how to adjust it. I can't stress enough how important this is!!!!! Beth and Nicole will be in the class to help with any troubles at the machines, but I will not be able to stop the class and assist you.



2. I will be at the church at 8:00 AM. Please arrive 1/2 hour early so you can set up your machine. I have LOTS of information to share so we will start right at 9 AM!

3. The church address is:
Evangelical Covenant Church

24 N Main St
Princeton, IL


You will want to come in the door on the east side. (I know, I don't know my directions either! LOL) It is the door closest to main street and facing City Hall. There is an elevator right inside the door if your machine is too heavy to carry down the 2 steps.

4. We will take a break in the morning and a break in the afternoon. You will need to bring your own drinks as there is not a soda machine available. There is a refrigerator. I ask that your drink be covered so if it is knocked over, it won't go all over. You will get a 1 hour lunch break. There are several fast food restaurants close or you can bring
your own lunch.

5. Be ready for a GRAND time! I can't wait to share this information with you. You will be AMAZED!!!!

Our Bible Studies FREE patterns are Blocks 50 -53. click HERE and then find the Bible Studies tab. Enjoy!



Ta Ta,
Carol
Quilter's Garden
Princeton, IL
815-879-3739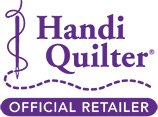 LIKE us on Facebook!
Sign Up for our Email Newsletter