The books, master trainers and kits are ready for pick up for the Free Motion Mastery class on June 1st from 9 AM - 4 PM. Just a few reminders:
1. Make sure you have a free motion quilting foot and know how to operate your machine. THIS IS VERY IMPORTANT! You will want to know how to drop or cover your feed dogs and know how to adjust your tension. Also, if you have a speed control on your machine, know how to adjust it. I can't stress enough how important this is!!!!! Beth and Nicole will be in the class to help with any troubles at the machines, but I will not be able to stop the class and assist you.
2. I will be at the church at 8:00 AM. Please arrive 1/2 hour early so you can set up your machine. I have LOTS of information to share so we will start right at 9 AM!
3. The church address is:
Evangelical Covenant Church
24 N Main St
Princeton, IL
You will want to come in the door on the east side. (I know, I don't know my directions either! LOL) It is the door closest to main street and facing City Hall. There is an elevator right inside the door if your machine is too heavy to carry down the 2 steps.

4. We will take a break in the morning and a break in the afternoon. You will need to bring your own drinks as there is not a soda machine available. There is a refrigerator. I ask that your drink be covered so if it is knocked over, it won't go all over. You will get a 1 hour lunch break. There are several fast food restaurants close or you can bring
your own lunch.

5. Please bring an extension cord, power strip and an OTT light or something similar as the lighting is a little dim.

6. Please copy pages 99, 101, 105, 109, 113, 117, 121, 125 and bring them to class with you. Remember, if you are coming a distance and can't get the pages copied off, my church has you covered!

7. Be ready for a GRAND time! I can't wait to share this information with you. You will be AMAZED!!!!

Who doesn't love a new T-Shirt? This was one of my great finds at
quilt market in Kansas City. -"To Quilt is human, to finish is Divine" - These come in L & XL, ($19.99) and 2X ($20.99). I love the quality of these T-Shirts and they are 100% cotton. They won't last long!


Our FREE Bible Studies patterns are Blocks #46-49. For your FREE patterns, click HERE and look for the Bible Studies tab!



Garden Club, don't forget to be cutting 3" X 3" squares for our extra
club project in June. For the 52" X 52" wallhanging, you will need lights - (64) 3" squares and for the medium to dark you will need (257) 3" squares. You will also need some extra yardage of lights, but at least you can get a jump start! For the Queen size, you will need lights - (256) 3" squares and for the medium to dark you will need (833) 3" squares. You must have a good contrast between the light and medium - dark. This is a fun stashbuster!


Have a great weekend and don't forget to thank a vet!



Ta Ta,

Carol
Quilter's Garden
Princeton, IL
815-879-3739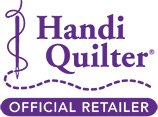 LIKE us on Facebook!
Sign Up for our Email Newsletter