Don't Forget!

1. Don't forget to bring extension cords and a power strip. I am sorry I failed to put that on the list. There are plenty of outlets at the church, but we will have to run extension cords.
2. If you have an OTT light, bring it along.

3. Also, please copy pages 99, 101, 105, 109, 113, 117, 121, 125 and bring them to class with you.

See ya tomorrow!

Ta Ta!
Carol
Quilter's Garden
Princeton, IL
815-879-3739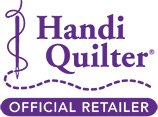 LIKE us on Facebook!
Sign Up for our Email Newsletter