Handi Quilter!

We just set up an Amara for Kathy, Nisse and Rebecca. They are so excited to try out their new ride! They test drove many models before deciding on an Amara, but some of the features they LOVED were the LED lights (as you can see in the picture), the smoothness of the stitch regulator, the thread mast on the side of the machine instead of the back and the beautiful stitch. Oh, and a big thanks to my Handi Quilter rep, Lisa Barnes. I am so lucky to be in her region. She is the best! Come in and try one out for yourself!

Once again, Quilter's Garden will be in the Three Month- Northern
Illinois Quilt Shop Hop. This is a hop you won't want to miss!
Here are all the particulars!


1. All participants must have an official passport and be at least

16 years of age.


2. Each participant is only allowed one passport and may only

turn in one passport to qualify for Grand Prize or 1st Prizes.


3.

Each shop will conduct a

drawing for a

$

25

Gift

Certificate

from the entries received at their shop.


4.

Each participant m

ust present h

is or her own passport

at each

shop,

and

sign tha

t shop's official

register,

to qualify

for 15% off,

and to be entered

in the drawing

for

that shop's Gift

Certificate.


5.

Participants m

ay onl

y use their 15%

discount

once

at each

location.


6. If participants visit all the shops in a region, they will qualify

for that

region'

s

2nd

Prize.


7.

To qualify

for the Grand prize

,

or 1st Prize

,

participants

must visit

all of the

shops in all three

regions.
For more information, CLICK HERE!


Don't forget, Garden Club is next week - Tuesday, May 21 at 10 AM or 6 PM OR Wednesday, May 22 at 10 AM. You won't want to miss out! We will be starting our new Block of the Month. Don't forget Show n Tell!



Our FREE blocks this week are #42 - 45. I hope you are keeping up on them! For your Free blocks, click HERE and look for the Bible Studies tab.








"Que Sera Sera",

Carol
Quilter's Garden
Princeton, IL
815-879-3739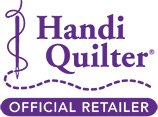 LIKE us on Facebook!
Sign Up for our Email Newsletter