Sinnissippi Quilters Quilt Show

Sinnissippi Quilters will be hosting their biennial quilt show this weekend at Indoor Sports Center-Sportscore Two, 8800 East Riverside Blvd, Loves Park, IL. The show - "Out of This World"- will be Saturday, May 4th - 9-5 and Sunday, May 5th - 10-4. Over 300 quilts will be on display and there will be some great vendors. There is one I think you will recognize! LOL! It is an easy drive so come and check it out!


Miss Maci is showing our bag, "Stand Up and Tote Notice." Nicole made this and it is perfect for taking to a quilt show! We have several heavier weight fabrics to make sturdy totes. From one bag lady to another ---- you can never have enough!

The Free Motion classes are full. If you would like to be put on a
waiting list for May 23 or June 1, just call the store. - 815-879-3739 - Just a reminder that the class will be held at The Evangelical Covenant Church, 24 N. Main St., Princeton, IL. (It is not being held at the church we have our retreats - New Hope, Church of the Nazarene) The Covenant church is right across from city hall on the same side of the street and near the fire station on the main drag. ---- We can still cut a kit for you. It will include the 3 blocks and batting for the class - Kit is $10.99. If you are creating your own kit, make sure one of your blocks has a large scale fabric. Very important! Can't wait to share this awesome program with you!!!!!


Our Bible Studies FREE blocks this week are #34-#37. One lady was in the other day and was making her blocks out of blue and yellow. How fun! For your FREE pattern, click HERE and find the Bible Studies tab.

I would love to see you in Rockford this weekend!

Ta Ta!
Carol
Quilter's Garden
Princeton, IL
815-879-3739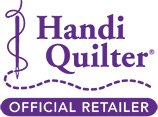 LIKE us on Facebook!
Sign Up for our Email Newsletter