There are only 2 openings left for the Free Motion Mastery quilting class on Saturday, June 1. Have you been wanting to learn to free motion quilt, but haven't had a clue where to begin? This program has a firm foundation and I will have you free motion quilting at your machine in a very short time.
F.Y.I. - If you have already printed off a supply list, I have made a few minor additions you will want to check out.
Here are some of the questions I have been asked:
1. Is this a ruler system? This is a free motion quilting program that does not require any rulers; however, you will use a master trainer which is a ruler/type product that helps you build your muscle memory before you ever go to the machine.
2. Can you come if you have a longarm and want to learn free motion quilting on your longarm? Absolutely! Of course you will bring your domestic machine for the class, but you will use a longarm master trainer that will get your muscles trained for using a longarm machine. It is very easy to transfer the knowledge from a domestic machine to the longarm machine. Just be sure and let me know you would like the longarm master trainer.
3. What do I need to purchase for the class? Class fee is just $39 and you will need to purchase the book ($35) and the master trainer. (standard size is $18 and the longarm size is $32.) You will also need to copy
(7) tracing sheets from the book before the class. Don't worry if you are traveling a distance, we have something worked out.
4. Do I need a fancy machine? Absolutely not! As long as you can have a free motion quilting foot and can drop or cover your feed dogs, you are good to go. (Please try out your machine before you get to class. This is VERY IMPORTANT! It will save you lots of time in class. A free motion quilting foot is not a walking foot so make sure you know if you have the proper foot before class.)
5. What do I need to bring to class? You can check out all of the supply information HERE! Just click on the Free Motion Mastery class name and it will direct you to the supply list. You may also order a fabric kit that will include the (3) sandwiched blocks for $10.99. For more information on the class or to sign up, call Quilter's Garden at 815-879-3739.

We just put out these cool short sleeved t-shirts! (Think we will ever
get to wear them? LOL!) They are soooo comfortable and always get some fun comments. Cost is just $16.99. They come in sizes M-XL.
For the Bible Studies FREE patterns, I have put the patterns up to #33. They are all there! You just have to scroll down to find each pattern. Click HERE and look for the Bible Studies tab. Sorry I didn't get an email sent out last week. I had internet issues and couldn't get it to send. I will send 2 emails this week!

Ta Ta
Carol
Quilter's Garden
Princeton, IL
815-879-3739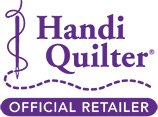 LIKE us on Facebook!
Sign Up for our Email Newsletter