Sign up - Sat. June 1

The Thursday, May 23 Free Motion Mastery class is full. Don't worry, there are still openings on the Saturday, June 1 class. Please call the store to sign up for this class. If you try to sign up for the Saturday, June 1 class online, it won't let you sign up. (I need to talk to my webmaster on Monday to get the issue resolved.)

If you have already copied off the supply list online, please note that I recommend the Hobbs 80/20 fusible batting. You can use 505 to spray baste your squares together, but go lightly on the spray. You don't want to have any "drag" while quilting. I have the batting on order and should be receiving it in the store next week. Or save yourself all the trouble of putting a kit together and just call and order one from Quilter's Garden - they are only $10.99. They will include the fabric and batting.

Also, the Free Motion Mastery book and trainer should arrive at the end of next week. If you would like to purchase the book before the class, they will be here!

I am soooooo excited to be sharing this program with you. It is the best technique I have seen on the market!
Ta Ta!
Carol
Quilter's Garden
Princeton, IL
815-879-3739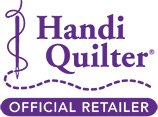 LIKE us on Facebook!
Sign Up for our Email Newsletter