LEARN FREE MOTION QUILTING

I have just returned from New Hampshire where I
took a week long course in becoming certified in Free Motion Mastery. What is Free Motion Mastery? It is a simple step by step process for learning machine quilting on your standard machine or longarm machine with great success! RaNae Merrill is the mastermind behind this program. She bases her technique on 6 basic shapes. Each of these shapes is the foundation for every quilting pattern. I will be teaching a one-day class on Thursday, May 23 from 9AM-4 PM at the Evangelical
Covenant Church in Princeton. (Garden Club - This will only be offered as a 1 day class which is different from what I originally thought. There have been so many signing up that I had to use this venue.) This class will also be offered on Saturday, June 1 from 9 AM - 4 PM. Cost is just $39. (This is the only time the class will be at this price.) If you are a longarmer, you can take the class on your domestic machine and transfer the knowledge easily to the longarm
machine. The quilt pictured is the one I made for the class. The word that I would have to say that describes this process is AMAZING! I will have you quilting hook feathers by the end of the day. Really! The book ($35) and master trainer ($18) are a requirement for the class. For class supplies click HERE!


Blocks 26-29 are now available on the website for Bible Studies. Hope you are all keeping up! Bring in some of your blocks and let me see what you have been doing! For the FREE patterns, click HERE and click on the Bible Studies tab.


We have just finished our Night and Day pattern in Batiks! Didn't it
turn out nice? We have kits for this quilt in both batik and country. It is a fun quilt and can be done in 2 sizes. This is a perfect throw size.

Hoppy Easter! Enjoy your day!

Ta Ta!

Carol
Quilter's Garden
Princeton, IL
815-879-3739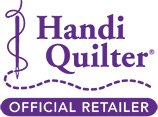 LIKE us on Facebook!
Sign Up for our Email Newsletter