JOIN US

Garden Club is next week - Tuesday, April 16 at 10 AM or 6 PM or Wednesday, April 17 at 10 AM. You won't want to miss! We will be revealing our next project for club! Also, if you were on the trip and loved our prizes, you will for sure want to attend. Remember, there is no need to call ahead and don't forget Show n' Tell. If you aren't a yearly member, cost is just $3 per meeting. ALSO, our extra project for the June meeting requires 3" squares. This is a GREAT scrap buster project! I know you are going to love the pattern. For a 52" X 52" you will need (257) 3" squares. For a 98" X 98" you will need (833) 3" squares. Get cuttin'!

My, what a GRAND time we had in Branson. We only saw one other
tour bus while we were there. We definitely received the V.I.P. treatment. What a prompt group you all were. AND......a fun group too! Our bus driver told us we were the "funnest" group he had ever taken to Branson. And, yes, he has taken more than 1 group! Thank you for being an amazing group to travel with! Click our FACEBOOK page to see all the fun we had.


I sound like a broken record, but if you are waiting on the Arlene Sachitano books, they have arrived - AGAIN!



Bible Studies blocks this week are 23, 24 and 25. Click HERE and find
the Bible Studies tab.







Ta Ta!
Carol
Quilter's Garden
Princeton, IL
815-879-3739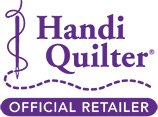 LIKE us on Facebook!
Sign Up for our Email Newsletter