Branson, Here We Come!

Less than one week and we will be heading to Branson! Yippee! I just checked the weather forecast and it looks like there is a chance of rain on Thursday so come prepared. Of course there is a chance it won't rain too! - If this is your first time, I want you to know we make stops about every 2 hours. We will have snacks to hand out at the rest areas on the way down. I will also have water available. (Until it runs out!) - I'm not sure we will make it to the hotel to unload our suitcases before the 7:30 PM show on Tuesday night. I want you to be able to plan accordingly if there is something you need from your big suitcase before 9:30 PM. - Just a reminder that milk products are not allowed on the bus. Don't forget your health form. I will have extras if you are unable to get it printed off. No problem! - We do not change seats on the bus each day. You will stay in the same seat. We feel this is much easier. We will take turns getting off the bus so the same people don't always have to be the last off. - The bus is planning on pulling in the parking lot behind the store at 6:15 AM and we are planning on pulling out as soon as possible. I have talked to the Princeton police and they will patrol that parking lot behind the store. If you have any questions at all, please call the store. 815-879-3739

Would you like to test drive our AMARA? It is one awesome machine!
Come in and let me show you all of the great features built into this machine. My granddaughter is anxious to start quilting. I told her we would have to start on a little smaller machine, but she thought she could do a few practice spins. It won't be long and she will be telling me to move over! LOL!



I'm sending a few extra patterns for Bible Studies this week. I'm not sure if I will get them sent out next week, so thought I would double up today. You can get # 20 - #25. Aren't they fun? For your free pattern click HERE and look for the Bible Studies tab.

I will be vending at a show in Mukwonago, WI this weekend hosted by
The Crazy Quilter's Guild. It will be Saturday, March 30- 9-5 and Sunday, March 31 - 10 - 4 at the Parkview Middle School, 930 North Rochester Street. Can you believe their membership is closed because they have so many members. That is a wonderful problem to have! Beth and I did a program for their guild last year and I am looking forward to seeing these fine ladies again this weekend. Be sure and stop in the store and see what specials we have for the weekend!

Ta Ta!
Carol
Quilter's Garden
Princeton, IL
815-879-3739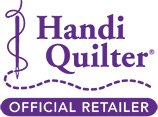 LIKE us on Facebook!
Sign Up for our Email Newsletter