Kansas Troubles

K
ansas Troubles has been a staple in Quilter's Garden for 19 years. Her new line has just arrived and we love it.! We have jelly rolls and charm packs and several bolts to match. Hmmmmm......what will be our next project?

Retreat is just 1 week away! Yippee!!! We are busy putting the final
touches on all of the patterns and kits. For our night mystery project, you will need a 60 degree ruler. Don't worry if you don't have one, I will have mine with me and you can just use it. It will only take a few cuts and you will be on your way! For all of the retreat information click HERE!

T
he Branson trip is almost full. Only 1 seat remains. If you are thinking of joining us, don't delay. It is going to be a GRAND time! Be sure and check out the email with lots of details. I am offering a $25 optional show to see Pierce Arrow on Wednesday evening. Click HERE for all the Branson information! Also, if you are getting on the bus at The Par-a-dice in Peoria, please email me your license number and make of car so I can give it to security. You will be parking behind the hotel along the turn around - Winter's Way. If you are getting on the bus in Princeton, you will park and leave your vehicle in the parking lot BEHIND Quilter's Garden.


Because there are so many blocks and all of you are
working so fast, I am going to speed up the blocks on email! I am giving you Blocks 9, 10 and 11. Remember, there is only 1 rule to this series. The only way you can get the pattern is through my website. If you are having issues, give me a call and I will check my website first. If everything is A OK and you are still having trouble with your computer,
find a friend and copy it at their house. Or, better yet, find a quilting friend and you can copy it together! If you miss a block, no problem, I will have a CD available at the end. Cost is $19.99, but if you pre-order it, you will pay $9.99. For the FREE patterns, click HERE!


Ta Ta!
Carol
Quilter's Garden
Princeton, IL
815-879-3739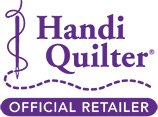 LIKE us on Facebook!
Sign Up for our Email Newsletter