Quilter's Select


OK! I know you are wondering, "How can I save money while quilting?" I have been selling the Quilter's Select rulers for a few months now. Everyone who has bought them is coming in and telling me how much they love them! These rulers are one of the best inventions in quilting that I have seen for many years. THEY DO NOT MOVE!!! There is a coating on the back that allows it to stay in place. I just had a beginner class and I usually have to work with each student over and over because the ruler slips. They had their fabric cut out in no time! You will not make as many mistakes because the ruler does not slip on you. Money saved! I have them in all different sizes, so come in and try them out!
Retreat is around the corner. Just a few additions! Bring a 60 degree

ruler. No, I can't tell why you need it! Also, if you are doing The Three Hour Quilt, you will ALSO need 5/8 yd. of the dark for binding. We still have a few openings. Cost is just $120. Click HERE for information.


Only 6 spaces left for the Branson trip! Call soon if you want to join us. For all of the information, click HERE!
Ruth is one of my favorite books in the Bible. I love her story. Did
you know the book of Ruth is big on loyalty? For instance, God's loyalty and faithfulness to Israel and Ruth's loyalty to her mother-in-law, Naomi are both written about in this book of the Bible. I guess this book always makes me think because there isn't a day that goes by that I don't miss my mother-in-law, Dorothy Keller. My mother-in-law was so wise. There are days I wish I could still go and talk to her. In her later years, whenever I sent food to her, every dish (except one when she was very sick) came back with a thank you note in it. Each note was well thought out and as you can see, I saved many of them. They are treasured!
Everything wasn't always perfect in the 42 years I knew her, but our loyalty to each other was very strong. She was so special to me. As you make this block, think of someone who has been loyal to you. Maybe even send them a note and thank them for all they have done to make your life special. You never know, you might even get a special letter in the mail this week! To get this FREE pattern, click HERE and go to the Bible Studies tab.
Ta Ta!
Carol
Quilter's Garden
Princeton, IL
815-879-3739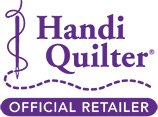 LIKE us on Facebook!
Sign Up for our Email Newsletter