February is moving right along which means RETREAT is on the horizon. Please have your final payments to me by Friday, March 1 as I need to turn in the number to the caterer. We will have kits for (3) of the smaller projects available. If you are doing The Three Hour Quilt, you will need: 1 3/4 yd. dark, 1 1/2 yd. medium and 1 7/8 yd light. They MUST have a high contrast. If possible, I would like for you to have it cut out prior to coming to retreat. Please send me an email, (don't reply to this one) at quiltersgarden@yahoo.com and I will send you the cutting directions or just stop in the store! We still have spaces available. Come and join us!!!! The supply list is at the bottom of this email!


Our Branson trip is filling up. I only have 10 openings left. If you are considering joining us, give us a call at 815-879-3739. For more information, click HERE! Final payment is due March 8.



Be ready for St. Patrick's Day with our new applique towel, Hats Off To The Irish. The kit is just $7.99 and includes the towel too!
Our Bible Studies block is a courthouse steps pattern. Didn't it turn
out nice? For the FREE instructions, CLICK HERE and go to the Bible Studies tab.

Here is what you need for RETREAT!
Quilter rested and ready to have FUN
SNACKS for our Community Snack Table
Marking Utensils/Chalk
Sewing Machine with cords, foot pedal and instruction book
Pins/Trash bag
Extension cords/surge protector
Scissors
Walking Foot
Rulers - including Quilter's Magic Wand or ruler for making HST's

SNACKS
Extra Machine Needles
Sewing Light
Table to put by your work station (optional)
Sewing Chair (optional)
Small Cutting Mat – (we also have a community cutting area)
Pen/Pencil
SNACKS
Duct tape
Rotary Cutter (with fresh blade or bring extra)
Small iron (we have several ironing stations available)
SNACKS

Ta Ta!

Carol
Quilter's Garden
Princeton, IL
815-879-3739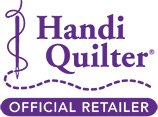 LIKE us on Facebook!
Sign Up for our Email Newsletter