JOIN US!

Can you believe it is that time again? Be sure and make it a point to attend

GARDEN CLUB

, Tuesday, February 12 at 10 AM or 6 PM OR Wednesday, February 13 at 10 AM. You won't want to miss out! Remember, it is just $3 per meeting and no need to call ahead. Don't forget Show N' Tell!


YES, there is still room for our Branson Trip. The date is April 2 - 5
and cost is just $599 for double or $699 for single. One of the fabric shops we will be visiting is Quilts & Quilts. They have over 18000 bolts of fabric. WOW! Now this trip isn't just for women, I have things planned for the men also. Check it all out right HERE!


Our retreat is March 8 and 9 at New Hope church in Princeton, IL. I have the quilt finished! It is called, THE THREE HOUR QUILT!. Hopefully, it will turn out better than THE THREE HOUR TOUR! (Think Gilligan's Island!) Size is 60" X 60". AND......you will get an extra surprise when putting this quilt together! I am working on the pattern as we speak and will have the yardages shortly. For more information on the retreat, click HERE!


I spent the beginning of this week at Prairie Star
Lodge in Wisconsin with these fine women. I think you might recognize a few of them! The lodge is absolutely gorgeous with an outdoor pool and hot tub. We had a fantastic time and I got "sew" much sewing done! I made "The Amazing Bagcase" out of our new fabric - The Ghastlies. It doesn't look like the traditional fabric we carry at Quilter's Garden, but Kay and I decided we needed to buy it. It is soooo fun. This is the second printing for this fabric by Alexander Henry.


I am excited to have Rita Hedlund testing the blocks for our FREE Bible Studies series. I think it is even nicer to see them made up in real life! For the FREE #6 block, click HERE and look for the Bible Studies tab. Enjoy!
Ta Ta!
Carol
Quilter's Garden
Princeton, IL
815-879-3739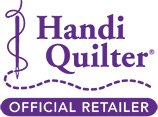 LIKE us on Facebook!
Sign Up for our Email Newsletter