Easy, Peazy!
Baby, it may be cold outside, but we have some "HOT"
runners in the store. We have two new wine runners and we are getting ready for spring with our "fruit" runner. Our kits come with the precut strips, border, binding and pattern for just $19.99. You can whip them up in no time and they are a great gift also! You can see all of our One Hour Border Runner kits HERE!
One of the shows we will be attending while in Branson is Samson at Sight and Sound Theater. You will experience one of the Bible's most epic stories as it comes to life on the panoramic stage! Sight and Sound offers an unforgettable and uplifting show. Yes, there are even live animals! For more information on our Branson trip, CLICK HERE!
Cost is just $599 for double and $699 for single. It just isn't for quilters! Invite a friend!

Our retreat is March 8 and 9 at New Hope Church in Princeton. The
quilt we will be making, "The 3 Hour Quilt" is on the longarm as I type! I hope to have it finished today and will post it on Facebook when it is done. We will also be offering 3 smaller projects. Our flag topper made with precut tumblers (WOOHOO!) is pictured. Of course you can always come and just work on UFO's! Your choice. Cost is $120. Check out the particulars HERE!


Block #5 is on the website. OK, I know this sounds like a broken record, but I am keeping all 5 on the website. I have so many people joining us that I want to keep it open to get them started. I can't tell you how excited I am to have so many following the Bible Studies series. Aren't the blocks fun? Click HERE to go to our website and then look for the Bible Studies tab. Enjoy!

Stay warm under a quilt!

Ta Ta!
Carol
Quilter's Garden
Princeton, IL
815-879-3739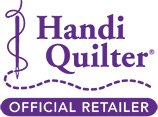 LIKE us on Facebook!
Sign Up for our Email Newsletter