Bible Studies!

I am so excited to announce a

FREE

Block of the Week - Bible Studies. Yes, I said FREE! All you have to do is get our newsletter each week and copy the pattern. The quilt will be made up of 72 blocks. Each week I will post a new block. Some weeks I will post 2 blocks so be on the look out! Each block will be on our website (that you will access through our weekly e-mails) for only 3 weeks. Along with great directions, each block will give you information about each book of the Bible. There will be 3 setting options at the end of the series - an 88" X 96" bed quilt, a 64" X 71" lap quilt and a 35" X 100" bed runner. Oh, and FYI-this is a great stashbuster! Be sure to tell all of your friends and have them sign up for our newsletter at www.quiltersgardenonline.com. I am not one for rules so I am going to make this as EASY as possible. There is only 1 rule and that is.........you can ONLY get the block through the weekly newsletter. If you happen to miss a week, there will be a CD for $19.99 at the end of the series. (That is why you want all of your friends to sign up! If you miss a week, they will have a copy.) Due to the particulars of this series, I am not allowed to give this pattern out in the store or send it out after the original email. Just a little advice, you may want to print it out each week instead of saving it. Ready to begin? CLICK HERE and look for the Bible Studies tab. ENJOY!


Garden Club is next Tuesday, January 8 at 10 AM or 6 PM or Wednesday, January 9 at 10 AM. You won't want to miss out!

Our club members are always ready to say, "HELLO" to a new quilting friend.

Remember, there is no need to call ahead, just show up with show and tell. (Cost is just $3 per meeting.) Since we are heading into the winter months and potential inclement weather, I will send out an e-mail if Garden Club is to be cancelled. Come join us for a fun and educational time!

Our second shipment of rulers has arrived! When someone is trying
this ruler, we usually hear, "WOW!" They do NOT move. Do you know how a ruler will "slip" the last few inches you are cutting because you didn't walk your hand up the ruler? What happens next is you ruin your strip of fabric! Quilters Select rulers eliminate this problem. Make sure you ask us for the demo!


Ta Ta!
Carol
Quilter's Garden
Princeton, IL
815-879-3739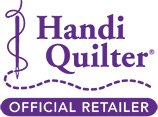 LIKE us on Facebook!
Sign Up for our Email Newsletter