January Classes

Our beginner class will be Saturday, January 12, Saturday, January 19 and Saturday, January 26 from 9 AM - 1 PM. Come and join Carol as she takes you through the steps of cutting, sewing and quilting a quilt. Cost is $47.50. You will make either a table topper or a small throw.


Collage Class - Friday, January 4- 10 AM- 2 PM- $15 - This is such a fun process! Using Laura Heine's patterns, create a one of a kind wallhanging.


Two Fabric Bargello - Wednesday, January 23 - 10 AM - 4PM. - $15 This continues to be our most popular class. This is not hard - REALLY! Come and learn the easy technique to making this legacy quilt.
I am reordering our new Quilter's Select rulers. You MUST come in

and check these fantastic rulers out. If you have trouble with your ruler moving as you cut, this is the ruler for you. They are amazing!


If you need a last minute Christmas gift----and I mean LAST MINUTE, we have some new fun novelty towels. Kits are just $4.99. Several colors and styles are available.

Ta Ta!
Carol
Quilter's Garden
Princeton, IL
815-879-3739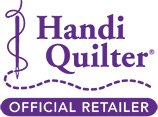 LIKE us on Facebook!
Sign Up for our Email Newsletter