Come One, Come All!

Remember, we are one week early for Garden Club in December! Garden Club is Tuesday, December 4 at 10 AM or 6 PM OR Wednesday, December 5 at 10 AM. No need to call ahead, just show up with show n' tell. You don't want to miss out on our meeting as we will be celebrating Christmas! Woohoo!

We are back from our trip to Branson! We previewed several shows
and feel we are going to have a great line-up for our trip April 2 - 5, 2019. I already have the hotel booked - Branson's Best - so think cobbler and ice cream. YUM! I am still working on all of the particulars, but should have the information and itinerary soon!


It is hard to believe Christmas is just around the corner.
We have some great last minute projects. The one on the left is called, "Leader of the Pack." Of course we always have towel kits. What hostess wouldn't appreciate a new festive towel?
See ya soon!
Ta Ta!
Carol
Quilter's Garden
Princeton, IL
815-879-3739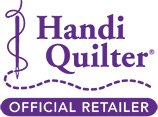 LIKE us on Facebook!
Sign Up for our Email Newsletter