If you are thinking about purchasing a Simply Little Foot or Sweet Sixteen Handi
Quilter machine, come in on Black Friday or Shop Small Saturday for a great deal on our demo models! We have reduced the price to $5250 for either the Simply Little Foot or Sweet Sixteen demo machines! AND....if you are simply sweet, we may even include the set-up and training!
Ann Hazelwood's book is here! She is always a favorite and I know this one won't disappoint you. Stop in and grab one this weekend!
We are decked out for the holidays! If you are in need of some fast tablerunners or towel kits----WE HAVE THEM! We also have some really neat wallhangings and stitchery projects. OH, we just got in a new shipment of towels! Woohoo!!!

Ta Ta!
Carol
Quilter's Garden
Princeton, IL
815-879-3739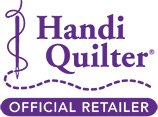 LIKE us on Facebook!
Sign Up for our Email Newsletter