SAVE THE DATE!!!!!
You've been asking, so I have a date for our next trip to Branson. We have Cheeseman Coaches booked for Tuesday, April 2 - Friday, April 5. Put the date on your calendar and more information will follow in December!

The Cardinal twister kit is back in! Come in and get your kit now so
you can have it made by Christmas! This wallhanging uses the mini twister. Cost of the kit is just $61.99.



Tell all of your friends to sign up for our e-mails. Starting the first week of January, I will be doing another FREE weekly block of the week quilt. The only way to get the pattern FREE is to subscribe to our e-mails. I think you are going to LOVE it! It consists of (73) 6" blocks. Do I hear "STASH BUSTER?" I thought so!

Our applique towels continue to be one of our best sellers. "Top Hat Snowman" is pictured. (I know it is a very original name!) We also
received a new shipment of towels I ordered from market! AND........come in and check out the neatest Christmas tree for your door. The tree can be made in a snap with your sewing machine, glue gun or safety pins. You can easily make it in an afternoon! Christmas tree kits are just $13.99 and include the pattern. What a deal! If you weren't in Garden Club this week, you will have to make a trip to Princeton to see it. I guarantee it will be worth the drive! Oh, we have them in 3 color choices too!

Ta Ta!
Carol
Quilter's Garden
Princeton, IL
815-879-3739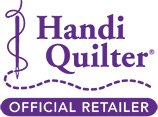 LIKE us on Facebook!
Sign Up for our Email Newsletter