FRIDAY & SATURDAY - FREE Pattern!

Stop in, Friday, October 26 or Saturday, October 27 for your FREE mystery towel pattern! Oh, he is sooooo cute. Enough said or it won't be a mystery anymore!

Join Quilter's Garden and 15 other quilt shops for the Northern
Illinois Shop Hop. Come and take a "Charming Fall Road Trip" Nov. 9th - Nov. 17th, 2018. Each shop will offer hoppers 15% off regular priced fabrics, patterns & quilt books. (Some exclusions on precuts, kits and specialty fabrics may apply.) You will be given a 5" charm square and you will also be eligible to win a gift basket ($125 value) from any shop you attend. All stores will be open their regular business hours.


All shops will offer a jewelry charm this year, free for a purchase over $25 pre-tax. Since some shops will have a limited amount of charms, it will be on a 1st come basis. Each shop will carry a different charm so you have a chance to collect 16 charms. Charm bracelets will be available for purchase at many of the stores to complete the look!

Just for walking in the door, you get a ticket to be placed in that
shop's jar. You will receive one more chance for each $10 (pre-tax) that you spend. These tickets will be drawn by each individual shop for their gift basket.

GRAND PRIZE - a weekend retreat (Friday night through Sunday
noon) for yourself and 3 friends at the New Morning Retreat Center in
Hampshire, IL. Winners will be chosen from the validations sheets returned showing the "hopper" attended all 16 shops.

SECOND place is a gift basket consisting of a $25 gift certificate from each shop in the hop. (Valued at $400.) Gift basket winner will be chosen from validation sheets returned showing the "hopper" attended at least 8 of the shops.

We will be waiting to see you this Friday or Saturday! Mark your calendars for Nov. 9 - 17th!!!!

Ta Ta!
Carol
Quilter's Garden
Princeton, IL
815-879-3739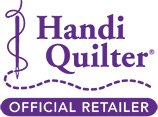 LIKE us on Facebook!
Sign Up for our Email Newsletter