JOIN US!

"The SewBatik road crew, (That would be Diane and Bruce), will be traveling to Quilter's Garden on Wednesday, April 25th at 10 AM or 6 PM to put on a great presentation about the tradition and history of Indonesian batik-making.There will be slides and video to create an in-depth explanation of the two basic methods of batik production, i.e. hand drawn batik and hand stamped batik. Attendees will get an entertaining and intimate view of the nuts and bolts of the various processes that result in amazing fabric. You can examine batik-making tools and samples from Bruce's stash that he has collected during his many visits to Indonesia. The presentation lasts approximately 1-hour with Q & A to follow. Exciting SewBatik products will be offered for sale before and after the presentation. They have fabulous 108" batiks-plan your backing needs. And of course, 45" cotton batiks as well as rayon batiks. We will open our doors at 9 a.m. for those who would like to come early to shop. If you aren't in Garden Club, give the store a jingle at 815-879-3739 to let us know you are coming. The presentation is FREE!

If you cannot join us for either presentation, the Sew Batik products will be available for sale all afternoon on the 25th through 7:30 p.m.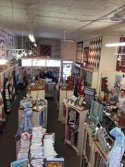 Thank you to all who went on our bus hop! A great time was had by all! One thing we know for sure, quilters are wonderful people! We are so lucky to be a part of the quilting community. The picture was taken of one of the last groups to leave the store. We didn't have time to take a picture until then!

We have many new runners at the store.
This was the biggest hit on our bus hop. The ladies LOVED the fun fabric. The fabric line is called "Girls Night Out." Be sure and stop in to see all of the new runners. Remember, the kits are only $19.99 and come with the pre-cut strips, novelty fabric or border fabric, binding and pattern. What a deal!
TTFN,
Carol and Beth
Quilter's Garden
Princeton, IL
815-879-3739
LIKE us on Facebook!
Sign Up for our Email Newsletter