Gems Quilt Show

IT is fast approaching! The Gems of the Prairie Quilt Show will be Saturday, August 26 from 9-5 and Sunday, August 27 from 11-4. Once again, IT will be held at the Peoria Civic Center - Hall C. They always have a wonderful display and they have some awesome vendors! Isn't their raffle quilt exquisite? To check out all of the particulars,click HERE!


We had a wonderful weekend with Sue Patten. She was so inspiring and left all of the quilters with lots of information. Thank you to all who participated! Beth had a dream that she quilted just like Sue. Unfortunately, she came in the next day and tried a few feathers on the Handi Quilter and realized it had truly only been a dream! She was devastated and decided to practice for 20 years and check again if she has achieved Sue Patten capabilities! LOL

Next week, Wednesday, August 23 from 10 - 4, Nicole will be teaching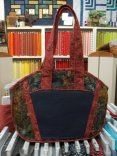 the Busy Body bag. We still have openings if you would like to make this cool bag. Not only will you get step by step instructions by an awesome teacher, we are pretty sure you will do a lot of laughing too!
We are on Block 32. We think this block would look great in a whole quilt. Actually, a lot of them would be awesome as stand-alone blocks. Remember, if you would like a CD of the whole series, just give us a call or shoot us an email - quiltersgarden@yahoo.com. If you pre-order, the CD is only $9.99. After the end of the series, it will be $19.99. For your free pattern, you know the drill!


TTFN,
Carol and Beth
Quilter's Garden
Princeton, IL
815-879-3739
LIKE us on Facebook!
Sign Up for our Email Newsletter