Garden Cub!
WOW! This past month sure flew by! Join us for Garden Club next week. It is Tuesday, May 9 at 10 AM or 6 PM and Wednesday, May 10 at 10 AM. Remember, no need to call ahead. Just show up with Show N' Tell!

How do you like your coffee? Isn't this One Hour Runner cute? It would look cute on any kitchen table and the matching towel is fun too! Our kits come with the strips pre-cut. Who doesn't love that? Come in and see our other new runners.
Hear Ye, Hear Ye!-----Pocketful of Rulers Class, Saturday, May 13 from 10 - 4, Cost $15. Call the store to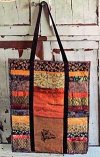 reserve your spot today! 815-879-3739 When packing for your next retreat, you will be so happy to have a special bag for all of your rulers, mat and supplies. It is so much fun to make and I have made the construction even easier!
Women of the Bible Block #17 - Jael - For your FREE block, click HERE!




TTFN,
Carol and Beth
Quilter's Garden
Princeton, IL
815-879-3739
LIKE us on Facebook!
Sign Up for our Email Newsletter