Born in a barn?
This pattern, Barns and Terraces, is one of best selling patterns. The first run of this fabric sold so fast that we ordered the second grouping and it has arrived! Come in and see the Aubade Song to the Dawn (what a name!). This was one of the easiest patterns to make. It just takes one jelly roll pack and border fabric.



Does the stormy weather have you down? Come in and pick up this fun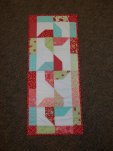 little pinwheel tablerunner kit. It will be sure to brighten you up!






This weeks block is Beth's favorite - Naomi! Click HERE for your free pattern!




See ya soon!

TTFN,
Carol and Beth
Quilter's Garden
Princeton, IL
815-879-3739
LIKE us on Facebook!
Sign Up for our Email Newsletter