JOIN US!
Join us, tomorrow, Thursday, Sept 15 at 10 AM or 6 PM Or Friday, September 16 at 10 AM for Garden Club. We have lots of new samples to show you!!! Remember, you don't have to call ahead, just show up with a Show n' Tell! If you haven't already paid, yearly dues are now due. Cost is still $25 for a whole year. What a DEAL!!! If you have paid the yearly fee, your "paperwork" will be held for you even if you are unable to make it.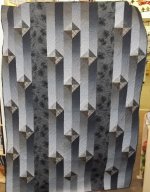 Check out our new Gentlemen's Agreement quilt. Isn't it a perfect man quilt? We have this available as a kit also! This quilt uses the ombre fabric. The fabric does all of the work for you!
We still have a few openings for our quilt retreat. Once again, it will be held at Wise Guys in Princeton, IL. Cost is the same as before at $115. When is it? Friday, November 11 from 9 AM - 12 AM midnight and Saturday, November 12 from 9 AM - 8 PM. Our project will be a MYSTERY this year. You are going to LOVE it! Of course we will also have a Mystery project on Friday evening. THINK great Christmas gift!
TTFN,
Carol and Beth
Quilter's Garden
Princeton, IL
815-879-3739
LIKE us on Facebook!
Sign Up for our Email Newsletter