Beginner Class!

Due to circumstances beyond their control, we had two sweet ladies that had to reschedule their beginner class. We now have 2 extra openings for our beginner class. It will be held Saturday, April 9, 16 and 30, 2016 from 10 AM - 2 PM. Cost is $37.50 - What a deal!!!If you are interested, give us a call! 815-879-3739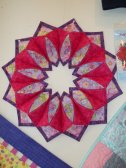 We are running our Fold n Stitch class on Thursday, April 14, 2016 from 10 AM - 2 PM. Most of the people who leave this class have a finished project. (Or pretty darn close!) Woohoo!!! Cost is $15.



TTFN,
Carol and Beth
Quilter's Garden
Princeton, IL
815-879-3739
LIKE us on Facebook!
Sign Up for our Email Newsletter